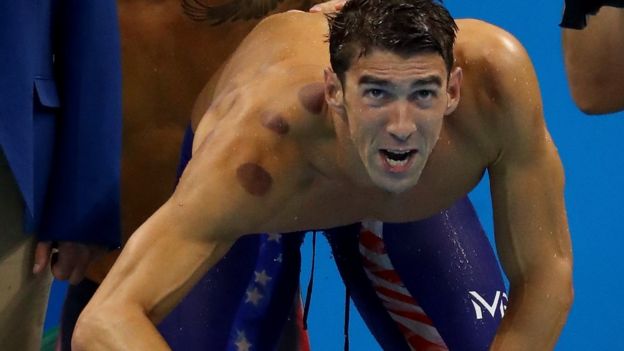 A number of our proud Olympians, including the most decorated Olympic athlete of all time- Michael Phelps – have recently been photographed with big red circles on their skin. And the internet almost broke because of it. But, just what is cupping?
The technique, a form of acupuncture that originated in China some 3,000 years ago, can be done by lighting flammable liquid in a glass cup. Once the flame goes out, the drop in temperature creates suction which sticks the cups to the body. Acupuncture teaches that as the suction pulls the skin away from the body, it promotes blood flow. Once the cup detaches, it leaves those red spots, which can last for three or four days. It doesn't hurt at all and many people report feeling much better. For an athlete, it's another therapy similar to kinesio tape, and they swear by it- regardless of the fact that Western medicine says it doesn't work.
But as someone who has used tape, I promise you it works.
And just like tape, the Olympic athletes say it's easing their aches and pains, as well. It's also helping them to recover from the physical toil of constant training and competing.
But it's not just Olympic athletes who use cupping- A-list stars have also used it. Remember when Gwyneth Paltrow appeared at a film premiere back in 2004 with the telltale signs of cupping on her back? A couple of days later I was with a bunch of girlfriends and we tried a homemade version out (I was the guinea pig). It felt so warm and relaxing.
It's easier than ever to have the treatment done as salons and spas, as well as traditional Chinese medicine offices, are offering it to clients.
The treatment isn't painful and the red marks left on the skin are caused by blood being drawn to the surface (the darker the mark left by the cup, the poorer the blood circulation is in that part of the body) and small capillaries rupturing. During the procedure, you will feel a bit of tightness, pressure, and warmth, where the cup is placed. The worst part is probably seeing the skin being sucked upwards in a dome, but if you are having the treatment done you won't see a thing. After about 10 minutes they take the cups off and you'll continue to feel the warmth for a little while.
From the BBC:
"MR LONG, WHO HAS PRACTICED CUPPING FOR 20 YEARS, SAYS THE IDEA IS TO HELP THE FLOW OF ENERGY – KNOWN AS TRADITIONAL CHINESE MEDICINE AS "QI" – AROUND THE BODY, AND REBALANCE ITS EQUILIBRIUM – "YING AND YANG".
On "rare occasions" the hot cups can cause mild burns but this is rare. If you are going to have it done, best to only use properly-trained practitioners who have some kind of accreditation.
More from the BBC:
"There is also a technique known as "wet cupping", which is done in both China and some parts of the Muslim world where it is known as "hijama".

It involves making a small cut in the skin before the cup is placed. The suction draws out a small quantity of blood.

Mr Long says many people in Western counties find this "difficult to accept", but explains that it is seen in Chinese medicine as a type of detox and is very popular."
https://www.youtube.com/watch?v=Ghl1llKuuX4
If you really want to know what it's like or if you'll receive any benefit from it, you'll just have to try it for yourself. Oh and don't worry, I promise you'll be fine!